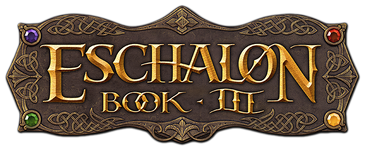 Welcome to the Eschalon Wiki!

The comprehensive encyclopedia for the Eschalon series of role playing games from Basilisk Games
245 articles And 844 images uploaded
Eschalon
Eschalon is a series of isometric role-playing video games developed by the independent video game company Basilisk Games. Now a trilogy, the games are intended to play like "old school" role-playing games featuring large and openly explorable game worlds, comprehensive management of character statistics and skills, and non-linear storylines.
The trilogy is now complete with the third game recently released:
News

February 14th, 2014 - Eschalon: Book III launched worldwide on Windows, Linux, and Mac OS X.
December 3rd, 2013 - Eschalon: Book III was announced to launch worldwide on February 14, 2014 (Press Release).
December 2nd, 2013 - Mac Informer reviews Eschalon: Book II.
October 29th, 2013 - Eschalon: Book III has been Greenlit on Steam.
September 16th, 2013 - Grogheads.com reviews Eschalon: Book II.
August 19th, 2013 - GameBanshee posts their Eschalon: Book II Overload site .
August 16th, 2013 - The Eschalon: Book III Teaser Trailer has been released!
August 15th, 2013 - Eschalon: Book III on Steam's Greenlight.
July 2nd, 2013 - July Update on the Development of Book III.
June 20th, 2013 - French Translation of Book II .
May 7th, 2013 - You can now purchase Eschalon: Book I and Eschalon: Book II on GOG.com .